Ex-minister's hubby faces corruption charges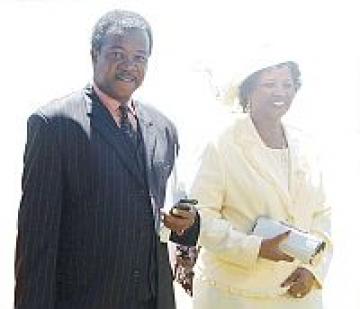 BY BONISILE MAKHUBU
MBABANE – It never rains but pours for former Minister Nelisiwe Shongwe's husband as he will appear in court for charges related to corruption.
Pastor Petros Shongwe was served with summons issued by the Clerk of Court on May 28, 2012, that orders him to appear at the Magistrates Court on June 13, 2012 at 9am. He was served by Detective Sergeant V. Mkhwanazi while at his residential place at Kent Rock on Wednesday.
Shongwe, who is also yet to file papers opposing a divorce filed by his wife, is facing two counts.
The first one being that of Contravening Section 27 of the Prevention of Corruption Act of 2006; "In that upon or about the year 2009 and at or near Mbabane in the Hhohho region, the said accused did unlawfully whilst an employee of the Swaziland Building Society, a public body, had a personal interest, in a decision involving PJSNT (Pty) Ltd which the said public body had to make, and the accused knowingly failed to disclose the nature of his interest and participated in the proceedings of the said public body relating to that decision."
In the second co-unt Shong-we has been charged for Contravening Section 35 (1) and (2) of the Building Societies Act 1 of 1962, "In that the accused while a member of the Credit Committee of the Swaziland Building Society and had a direct pecuniary interest in granting of an advance to customers of the said Building Society, failed to declare such interest and further took part in the discussion and thus contravened the said Act."
The former minister, who is a senator, has mentioned in her claims in the divorce case that her husband allegedly physically abused and threatened her with death.
She further alleged that the marriage between the two parties has irretrievably broken down and they can no longer stay as husband and wife. Shongwe filed intention to oppose the divorce but is yet to file his papers.
Interestingly, Shongwe was by his wife's side when she was summoned and charged with allegedly defrauding government through the Regional Development Fund (RDF) in that her company allegedly won tenders fraudulently. The case is yet to be tried and tested in court. The senator is currently out on bail.