Hubby threatened to kill me Ex- minister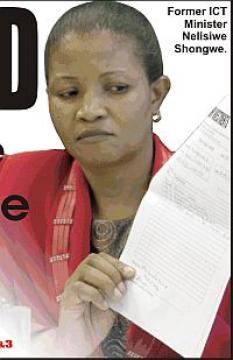 MBABANE – The husband of former Minister of ICT Nelisiwe Shongwe, Pastor Petros Shongwe is alleged to have threatened to kill her.
ICT stands for Information Communications and Technology.
This is contained in court papers filed by Nelisiwe the former minister before the Manzini Magistrates Court where she wants a divorce from Petros Shongwe, her husband of close to 20 years.
They were married in Swazi Customary Law. She also wants the court to issue an order granting her custody of their three children.
Petros is yet to file his papers in response to the allegations.
The court papers were filed by Nelisiwe's law firm Mabila Attorneys and the case is yet to be heard by a magistrate. She has alleged that she has suffered unbearable abuse in the hands of her husband and was forced to move out of their matrimonial home in the plush Beverly Hills in Mbabane.
She has claimed that Petros, at the time they stayed together as husband and wife, would physically and verbally abuse her. She claimed that he would at times threaten to kill her, something that caused her to move out in fear of her life.
Nelisiwe was reported by the Times of Swaziland late last year, that she had moved out of their matrimonial home to stay in a two bedroom rented flat at Thembelihle. She had alleged that she had moved out because there was an electricity blackout hence she needed to cook for her children.
Petros had, however, told the publication that she had said she needed her space to enable her to pray.
This was after she had been relieved of her ministerial duties by the Prime Minister Sibusiso Barnabas Dlamini on October 17, 2011.
Petros has further denied that in their 19 years of marriage, they had had serious problems, but remained close to each other.
In her court papers, Nelisiwe alleged that the reason she had moved out of their home was after her husband had threatened to kill her. She could not elaborate, however, how the threats had been conveyed to her.
According to the court records, Petros was served with the divorce papers at his residence at Dalrich East. The return of service indicated that Deputy Sherriff Phumelela Malindzisa served Petros on Wednesday afternoon.
How Petros earlier dismissed divorce reports as untrue ...
MBABANE – Pastor Petros Shongwe when interviewed about a month ago that there were irreconcilable differences between him and his wife which may lead to divorce, denied there being such.
In a statement he sent through on May 4, Shongwe dismissed such reports as being unfounded and not having any basis.
This was way before his wife filed for divorce before court.
He however admitted that they were sorting some minor differences with Nelisiwe at family level.
He said couples do argue and have differences daily, but took time to resolve them.
"This does not in anyway suggest that the statement was a response to the divorce application filed before court.
"I refer to your interview on this matter and wish to place on record the fact that the allegations you are making are, as far as I am concerned, unfounded and having no basis, and as such, are therefore viewed by myself as mischievous, libellous and scurrilous.
"Divorce has not been agreed as the solution to resolve the impasse between me and (my) wife, which by the way, is not peculiar to this couple.
Argue
"Couples argue and have differences everyday and take time to resolve them, a thing that I believe would have been achieved by now, had it not been for the media's unwarranted interference as in this case.
"My position is that we are sorting out our differences with my wife, and these matters are being discussed at family level at this point as a couple married first, in Swazi Law and Custom. And while it is admitted that we are sorting out a few minor inconveniences, nothing we can't handle, I might add; our relationship I believe has not deteriorated to the point of us resolving to go the route of a divorce.
"As a family, we view your insistence on publishing this falsehood as your paper's continued crusade to humiliate us, because what is the point really, of publishing a rumour that no one wants to substantiate such as this, except to embarrass?" he said.
"What also needs to be understood is that I do answer to anyone on my private life; and as such do not appreciate your harassment. You make me spend valuable time discussing nonsense and trivia just because you have the privilege of publishing what you like about us.
"Again I ask if it is in the public interest to publish this article, and that you declined to answer. My contention is that you are out to defame us, and nothing more. I take exception to your intrusion on a private matter such as this one, and reserve my rights to legal recourse should I feel so inclined after publication of this article.
"What puzzles me is that when you are asked who your sources are so that we could engage them to establish the basis of these rumours; you declined, saying sources cannot be revealed.
"So what does that say to me?
"That you are either protecting your sources because you know they are not credible or this story is your own creation. I think you are disrespecting me, and I perceive this as unwarranted provocation on your part.
Intact
"In any case, whether our marriage was intact or going through a rough patch, who says that is your business really? I personally do not really make it my business what happens in people bedrooms and relationships.
"Your paper has degenerated into a Tabloid, all in the name of trying to sell the paper and that is not funny my man!
"You need to realise that in a marriage, there are so many people involved, in-laws, children, and the community and in our case, the church. Do you see what the rumours you are paddling have a potential of doing? I know you don't care. The issues we are sorting through right now, were your paper's machinations, following the article you published in February last year; which even after being brought to your attention as having been libellous and fallacious you refused to retract.
"I see the current rumours as a continuation of your crusade to humiliate this family; and vow to you that I will not take it lying down.
"Again, which family doesn't have its share of differences?"
Do you agree with Ministry of Education Director of Guidance and Counselling Lindiwe Dlamini that teachers should support gay and lesbian pupils because "so many children who are gay and lesbian fall into cracks because their teachers are ignoring th