Mango Groove lights up the fire in style!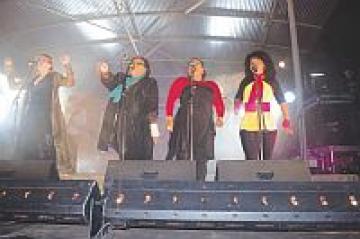 MALKERNS-The MTN Bushfire Festival kicked off in a brilliant fashion at House on Fire last night.
Unlike in previous years where the opening is normally attended by a fair crowd, last night's event saw thousands of people attending.
The show was opened by local band Rooted Soulz who performed when most of the patrons were still trying to make their way inside the arena.
The band's director Themba Mavuso opened the stage by taking the microphone and asking patrons what they had come for, to which they responded 'more fire'.
This was followed by a rendering of different poems from the band's members who included talented star Qibho Interlektual, Musa and The Last Man Standing.
It was South African award winning group, Mango Groove who had everyone getting their groove on.
As soon as the MC, musician Anakhonza, announced that the group was next on stage, patrons were seen rushing towards the stage and the group started rocking them with their popular song 'Mbombela'.
This was followed by a superb performance of their song 'Take me Home' which saw most of the fans dancing and singing along.
Other songs that the group performed include 'Groova', 'Moments Away', Special shine' and 'Sisonke' to name a few.
During the performance of the song 'Another Country', the group's lead singer Claire Johnston spoke to the audience and encouraged them to live their dreams.
"You can grow from smaller things, but if you are determined, you will be a great nation tomorrow. Swaziland is so amazing and I just see a great future for everyone in this country," she said and then started the song.
Another song that was well received by the crowd was 'Mbube' which had everyone dancing and clapping hands.
The group's saxophonist, Percy Mbonane, also stole the hearts of the fans with his brilliant penny whistling which had the fans screaming.
After about 11 songs, Claire told their fans in a sad tone that it was time to love and leave them and this was followed by a performance of the song 'Dance some more' and the fans screamed 'We want more'.
In the end, judging from yesterday's attendance, people just love the MTN Bushfire Festival and today will be even better.
How much are you planning to spend on Christmas gifts and festivities this year?