Bank's Business Centre a breath of fresh air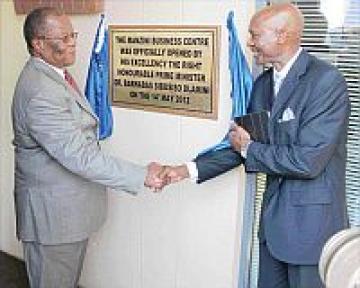 MANZINI – The establishment of the new Business Centre by Standard Bank Swaziland will provide a breath of fresh air for its clients.
The Business Centre will enable the bank's clients to do their entire banking under one roof in modern and high technological facilities.
The centre was officially launched by the Prime Minister Sibusiso Dlamini, an occasion that drew the bank's top management and staff, Manzini Regional Administrator Prince Masitsela, Government Spokesperson Percy Simelane, Matsapha Town Board Chief Executive Officer Gciniwe Fakudze, Theo Hlophe of SWAKI and former Managing Director of Swaziland Posts and Telecommunications Corporation (SPTC), Nathi Dlamini.
In his address, the PM noted that the country needed a great deal of investors to improve its economic growth targets. Dlamini said all new enterprises were welcome in Swaziland whether providing goods or offering services.
"The quality of financial services to business is an important component of improving private sector growth as it is a key indicator to prospective investors," Dlamini said. He said the launch of the Investor Roadmap represented government's commitment to improving conducive environment that would enable the attraction of investors, both large and small, from inside and outside the country.
He explained that the establishment of the Business Centre was bringing a new valuable service in the city. "I understand that the bank is involved in several infrastructure projects that are in the pipeline for Manzini and the Business Centre is geared to provide financial needs for residential properties, motor vehicles and equipment and general loans," he added.
He also mentioned that the Business Centre was bringing competition to other institutions in the same business sector. He said competition was essential in a vibrant economy as it resulted in high quality products and brought down prices. He added that it provided the customer with better value for money.
Moreover, the PM said the growth of all parts of the private sector had to go along with resolving difficulties faced by Small, Medium and Micro Enterprises (SMMEs). He encouraged banks to examine potential solutions, perhaps new financial products that would enable SMMEs to borrow from banks. "Financial institutions and SMMEs are fellow players and potential beneficiaries, or losers in the same economic community," he said.
Cattle winner will not sell them
MANZINI - Nkanyezi Shongwe who won himself two cows in the Standard Bank competition draw will not sell them.
Shongwe from Motshane won the two cows after a raffle draw that was conducted after the official opening of the Standard Bank business centre in Manzini.
"I can encourage other people to also open their accounts with the bank to get huge prizes such as this one. I have opened a new account with the bank, which qualified me to be one of those considered for the raffle draw," said Shongwe.
He was drawn from a total of 300 other customers.
Shongwe has other accounts with the bank but recently opened a new one which qualified him to enter for the competition.
"I am over the moon and will keep my cows. We have cattle at home but they belong to my father. My friends are quite happy for me. In fact, they still can't believe I emerged the overall winner," he said in a brief interview.
Do you agree with Ministry of Education Director of Guidance and Counselling Lindiwe Dlamini that teachers should support gay and lesbian pupils because "so many children who are gay and lesbian fall into cracks because their teachers are ignoring th