Close to 1 000 attend burial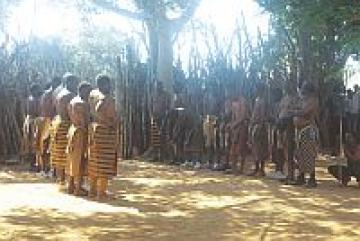 DVOKOLWAKO - Close to 1 000 mourners attended the burial of Senator Chief Malamulela Magagula of Dvokolwako.
The chief was laid to rest yesterday afternoon in a cave on Mliba Mountain.
Only the Magagula clan were allowed to ascend the mountain where the caves are located, while other mourners remained at the foot of the mountain.
At around 2:30pm, a trumpet was blown to signal that the chief had been buried.
The burial of the chief was traditional in every sense.
Besides him being buried in broad daylight, his body was not placed in a modern casket.
Instead, the chief's body was seated in luhlaka, a spherical wickerwork container made of woven branches.
People from all walks of life came, even from as far as South Africa, to pay their last respects to the chief, who succumbed to death on May 3 at the Raleigh Fitkin Memorial Hospital.
The service was held at the deceased's Royal Kraal. At 12:30pm, the body of the chief was taken from the tent into the cattle byre before being taken to the mountain.
Close relatives burst into tears as the body was paraded in the traditional 'coffin', which was covered with a blanket.
The body was carried by loin-skin-clad warriors who sang traditional songs.
At 12:40pm the luhlaka was put in a hearse from Dups funeral parlour for transportation to Mliba Mountain, where he was buried according to the Magagulas customs.
Malamulela described as a catalyst, disciplinarian
DVOKOLWAKO – The late Senator Chief Malamulela Magagula of Dvokolwako was described as a catalyst for development and a disciplinarian.
Mourners during the vigil in honour of the late chief at Emvelo Royal Kraal, said Chief Malamulela will be greatly missed for the role he played in ushering development into his area.
Projects that he was hailed for included schools, clinics, agricultural projects and many other initiatives that came about during his reign.
Reverend Thwala said, when he was school committee chairperson, he had failed to get approval for the construction of a high school in the area.
"When we, as a school committee, came back from the Ministry of Education we informed him that we had failed to get approval. However, he left us and went there himself.
"When he returned he was smiling and told us all was well. Today, we have the school at Dvokolwako," he said.
Thwala said since Chief Malamulela assumed his reign, he changed the area for the better.
Reverend Mgodloli said Chief Malamulela was a born leader.
"Some leaders are trained while others are born. Chief Malamulela had all the qualities of a born leader," he said, also mentioning that he was a disciplinarian who was disciplined himself.
Reverend Johannes Mazibuko, the chief's in-law, also paid tribute to the late chief, saying his death was a great loss to the country.
Mazibuko, who is known as a marriage councillor, also gave mourners advice on how to maintain good family relations. The service was predominantly hosted by the Zionist church.
'He frowned upon women in pants'
DVOKOLWAKO - The late Senator Chief Mala-mulela Magagula's relative caused laughter when she described how he disciplined a girl who was wearing pants in the area.
Ngane Magagula said the chief was renowned for disallowing women and girls to wear pants, as he said such a tendency was dishonourable.
"Then one day as he went about he saw a girl wearing pants. He told the girl to get in the car and he took her to her home.
"When they got there he asked to meet the girl's parents. He then ordered the girl to lie down, produced a sjambok and beat her for wearing pants," she related.
Magagula said she liked the chief because he also required married women to wear traditional aprons, sidziya.
---
Comments
I was born and grew up in Dvokolwako. It was either you were the chief's favourite or not. The impact of the chief's feelings determined land allocation, food allocation and other general chief services such as signing scholarship forms etc. He had an iron hand. He strongly believed in fining poor people heavily for not showing up to work in his yard etc. He levied a fee at Dvokolwako Health Centre for personal gains. Hopefully we can do away with chiefs because they are an institution that suppresses citizen's rights and development.
May 14, 2012, 2:16 PM, Muzi Siwela (m.siwela@gmail.com)
: Do you support the traditional taboos on widows such as not allowing them to address public meetings?