'Central Bank hired Hunter to kill me'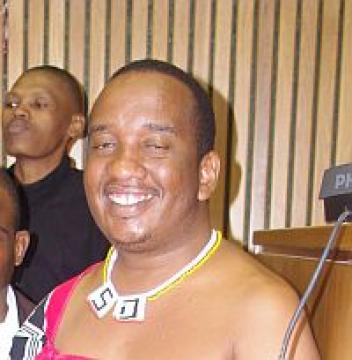 MBABANE – The Central Bank of Swaziland (CBS) is alleged to have hired Private Investigator Hunter Shongwe to kill Channel Swazi TV boss Qhawe Mamba.
The startling allegations were made by Mamba in court yesterday, claiming that this was at the height of the bank's battle to close down the Channel S Proposed Credit and Savings Cooperative.
Mamba was giving evidence before High Court Judge Phillip Levinsohn in his trial where he and his companies as well as the club are alleged to have taken over E17 million from members of the public through a pyramid scheme.
He alleged that it all began when the CBS was investigating his involvement and the operations of the Channel S Club with the then SDL pyramid scheme which operated in the country, but was later closed down by government. He claimed that the bank wrote to him complaining about the operations of SDL, that they were unlawful.
He alleged that the complaints came about after he had had a tiff with the Central Bank of Swaziland's Mhlaba Dlamini, who was the legal advisor at the institution.
He claimed that the bad blood between them began when Dlamini accused him of having an affair with his girlfriend Thobile Masina, a lawyer who was assisting Channel S with legal matters. He alleged that he tried to get a relative to mediate between them.
Mamba claimed that he would at times go to South Africa where he was being oriented on the operations of the SDL club and for business trips. This, Mamba alleged happened sometime in 2008.
"At some point while going to South Africa, I got a call from Hunter (Shongwe) unfortunately we could not communicate because of network problems. I later got a call from Nkosingiphile Mbhamali telling me that there were people waiting to kill me. He advised me to remain in South Africa and I stayed there for quite some time," Mamba said.
He alleged that on his return to Swaziland, he discovered that Hunter Shongwe had been hired by the Central Bank of Swaziland to investigate him and the SDL operations.
"He had been hired to kill me. I reported the matter to the police," he said.
Mamba, in his evidence, was being led by his lawyer Simanga Mamba who was assisted by Mzwandile Dlamini. Crown Prosecutor, Advocate Francois Joubert, interjected and said the information told by Qhawe was irrelevant.
Judge Levinsohn stopped him and said the allegations had no factual basis. He also said it was irrelevant. "I cannot allow that," Judge Levinsohn said. The trial proceeded smoothly yesterday after Mamba dumped his advocate, Charles Mkhonta on Wednesday.
Mamba, who had given brief evidence in chief, was allowed to submit new facts during re-examination. The case was postponed to May 23, 2012.
E200 000 for Mbhamali to turn against Qhawe
MBABANE – The Central Bank of Swaziland is alleged to have dangled a E200 000 carrot to former Channel Swazi employee Nkosingiphile Mbhamali, to turn against his former employer Qhawe Mamba in court.
Mamba told the High Court that Mbhamali, whom he had earlier on described as a Form II drop-out, was also forced by the police to testify against him in court. He alleged that Mbhamali before the case commenced at the High Court, approached Mamba's mother to tell her such information.
"Mbhamali had an interest in the matter. At some point, he went to my mother who is over 80 years old and said the bank had offered him E200 000 to testify against me," Mamba said.
He alleged that his mother and Mbhamali went to church for a prayer session. He claimed that Mbhamali further said the police were forcing him to testify against him as a Crown witness.
Mbhamali was employed at Channel S TV at the time the Channel S Club was operational until it was closed down. When asked how Mbhamali left, Mamba said he fired him sometime in December 2008. He denied Mbhamali's evidence that he resigned from the station.
"I fired Mbhamali because of a serious abomination to the state," he said.
He could not explain what Mbhamali had done to warrant the alleged dismissal.
E20m equipment attached
MBABANE – The Central Bank of Swaziland allegedly attached equipment worth over E20 million and, therefore, caused Qhawe Mamba to start afresh in life.
He has told the High Court that the bank, when it intervened in the Channel S club operations, attached a number of equipment and documents from his work place and even at home.
Computing the value of the equipment attached by the bank, Mamba claimed that it was valued at over E20 million.
He said the bank attached television equipment such as transmitters and studio equipment to name a few. He claimed there were four transmitters worth E1 million each. He also claimed that there was studio equipment such as microwave links, mixers, monitors and video recorders among other items.
"In total the property was worth about E20 million. I must stress that this is just an estimation. I am trying to avoid being held by my words," Mamba said.
He alleged that after the bank attached his property, he had to start afresh in life.
Channel S Club could have raised E25m
MBABANE – The Channel S Club could have managed to raise E25 million for the members' benefit, had it not been closed down, Qhawe Mamba says.
He alleged that the club had put in place a number of projects which were aimed at raising money to establish businesses for its members. He alleged that aside from the raffle draws on TV where members had already begun winning, they had planned to purchase Moses Motsa's property for leasing purposes.
"The people would benefit financially from ventures that were to be devised. We were to partner with Swazi Med (Swaziland Medical Aid Fund) and had also proposed to have insurance. I had already approached the Registrar of Insurance and Retirement Funds on this," he said.
He claimed that with the introduction of ticket sales of E100 for the over 10 000 members, they had projected to make over E4 million a week. He alleged that some people had already taken the tickets and he believed they still have them since the club was closed down before such was realised.
He also said the Channel S Club was different from SDL in that members joined individually as compared to the former's strategy where people joined under a certain individual. He claimed that the people were to benefit three times more if they had joined the club thrice.
'Gospel star Frans is a founding member'
MBABANE – Nhlambeni Member of Parliament and gospel artist Frans Dlamini is alleged to have been one of the founding members of the Channel Swazi Club.
This was revealed by Qhawe Mamba before the High Court yesterday.
He alleged that Dlamini, himself, Pastor and gospel artist Freddy Msimango were some members of the Interim committee that kick-started the Channel S Club.
He alleged that the club was formed as a result of SDL's closure by the state for alleged unlawful operations in the country. Mamba said he was approached by some of the SDL members that they should form something similar to SDL, locally.
He alleged that the interim committee, was chaired by Elphas Ngcamphalala and other members were Doreen Gamedze and some pastors. He also claimed that the interim committee remained in office for quite a short time as the members then elected a substantive committee in a meeting held at the Divine Healing Ministries International.