Warder, cop have sex while on duty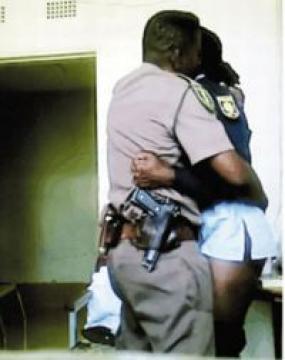 MBABANE – The focus on Swaziland by the South African media took a backseat yesterday as attention shifted to a 15- minute video of a warder and a married female cop having sex on duty.
The attack on Swaziland's political and economic situation was replaced by headlines such as 'SIES' by the Sowetan newspaper which also carried a front page picture of the female cop with her pants lowered to the knees.
Online publications were abuzz with the story which attracted a lot of readers and City Press even ran a voting booth on the scandal which has resulted in the two losing their jobs.
Filmed
The warder and police officer, who are both from Kagiso near Krugersdorp on the West Rand, were filmed having sex in a waiting room at Leratong Hospital in Krugersdorp.
The fully-uniformed law enforcers were supposed to be guarding a suspect they had transported from prison to the government hospital for a medical check-up.
"The female cop, a reservist, is wearing a wedding ring and the prison warder doesn't remove his service pistol and handcuffs.
"At one point, the officers are disturbed by a person outside the room and they hastily button up, the man attends to the unwelcome intruder before going back to the room a few minutes later to resume the sex session," City Press wrote.
The warder has confessed to recording the act himself, saying he was making sure that the police officer would not turn aro- und and accuse him of rape but the woman was not aware that their act was being recor-ded.
The warder has since been admitted to hospital after attempting to commit suicide by taking an overdose of pills after the video got out.
"A friend from Randfontein Police Station managed to get hold of the footage and sent it to a number of people and that has ruined my life," the warder told the Sowetan newspa- per.
The father of seven thanked his wife for standing by him and apologised to her for the embarrassment he might have caused her.
Police Minister, Nathi Mthethwa has described the officers' act as 'embarrassing' and 'immoral' while commending the South African Police Service's Gauteng leadership for dismissing the police officer.
Correctional Services spokesman Phumlani Ximiya admitted knowing the sex tape and said steps were taken against the warder.
---
Comments
According to me this is really disgusting.
Aug 16, 2011, 8:56 AM, shadrack (evansmotlokwa@hotmail.com)
SIES!!!!!
Aug 16, 2011, 2:44 PM, Lungile (slovodiva31@gmail.com)
This so embarrassing, Swazis please stop devaluating the country . This is so rude ,May the Lord Savior saves our lives, i can not believe this embarrassing picture
Aug 16, 2011, 3:59 PM, Gugu Masuku (temguz22@gmail.com)