Rent a crowd' style works wonders at Karaoke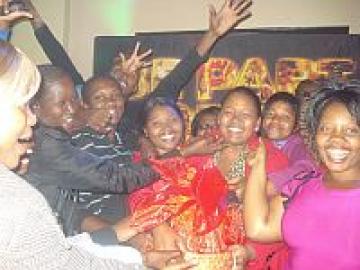 EZULWINI-The battle for the E15 000 Karaoke competition grand prize is getting more interesting.
This is because contestants of the competition are now using the 'rent a crowd' strategy to gain more votes.
This was witnessed at the Happy Valley Cigar Lounge on Friday where Shine Music Talent Search Top five finalist Sivile Vilakati came with over 10 friends and relatives who voted for her.
Interestingly, Vilakati tried her luck in the competition two weeks ago but did not get votes from the audience.
She sang Luther Vandross' 'Dance with my father' and when she was announced as the night's second winner, her 'supporters' screamed and celebrated by dancing with her. The first prize went to young Chanelle who stole the hearts of many as she brilliantly sang Adele's 'Someone like you'.
The young woman had also come with her relatives who included her mother who is based in Durban.
Chanelle's mother was so elated that she even took the microphone and made a speech congratulating her.
The event itself seems to be getting popular each and every weekend so much that the organisers could be forced to find an alternative venue to accommodate its crowd.
However, most of those who come seem to love the open mic session and are not interested in the competition.
Friday night saw one Thulasizwe Mdluli taking the microphone three times and was loved by the audience.