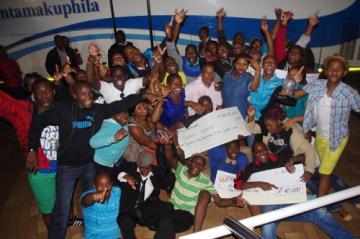 DURBAN- Sweet Sounds once again proved their worth in the choral music frontier after scooping the second position during the Old Mutual Choral Music Festival
MBABANE – Mbabane Swallows Board of Directors have told their former players to shut up. Swallows Board of Directors Secretary Bongani 'Under Control' Mamba issued
...
MBABANE – The country will no longer host the Zone VI Volleyball Club championships that were due to commence on Monday next week. The games which
...
MBABANE – There is no stopping Green Mamba forward Solomon Oladele as he remains the number one contender for the Top Goal Scorer award. The Nigerian
...
Conditions for Mbabane, SZ at 2:00 am SAST
Current Conditions:
Unknown, 19 C
Forecast:
Tue - Rain. High: 22 Low: 18
Wed - Rain. High: 21 Low: 18
Thu - PM Showers. High: 28 Low: 19
Fri - Showers. High: 29 Low: 20
Sat - PM Thunderstorms. High: 31 Low: 21
Full Forecast at Yahoo! Weather
(provided by
The Weather Channel
)
Do you think that polygamy encourages cheating?