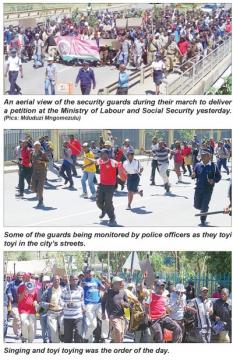 MBABANE – Security guards have once again voiced out their grievances of being underpaid and the non-compliance to regulations by some of their employers. Yesterday, about
EZULWINI – A Korean national working at the Swaziland Medical Christian University (SMCU) has committed suicide by hanging himself inside his son's house in Ezulwini. The
...
MBABANE – A rhino horn that had been sent to Hong Kong has been returned to the country after its recipient failed to collect it. The
...
MANZINI – The Throne of Grace Ministries' founder Pastor Themba Maseko has donated a house to one of the evicted Nokwane squatters. In fact, the
...
Conditions for Mbabane, SZ at 3:58 pm SAST
Current Conditions:
Mostly Cloudy, 21 C
Forecast:
Thu - Showers Early. High: 20 Low: 12
Fri - Mostly Cloudy. High: 19 Low: 11
Sat - Mostly Sunny. High: 22 Low: 9
Sun - Sunny. High: 25 Low: 11
Mon - Sunny. High: 28 Low: 11
Full Forecast at Yahoo! Weather
(provided by
The Weather Channel
)
Do you think pastors and other adults who rape children should receive harsher punishment?