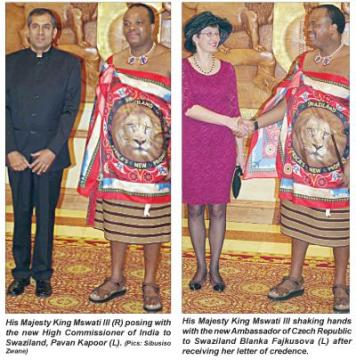 LOZITHA – Once again His Majesty King Mswati III has shown his desire to have Swazis educated as he asked the Czech Republic to assist
MBABANE – The Government of South Africa has ordered three Swazi political activists in that country to leave. The SA Government has revoked political asylum permits
...
MBABANE – Judge Mpendulo Simelane will today deliver the sentence in the matter of Human Rights Lawyer Thulani Maseko and The Nation Magazine Editor Bheki
...
LOZITHA – Once again His Majesty King Mswati III has shown his desire to have Swazis educated as he asked the Czech Republic to assist
...
Conditions for Mbabane, SZ at 2:59 pm SAST
Current Conditions:
Fair, 30 C
Forecast:
Fri - Clear. High: 29 Low: 11
Sat - Sunny. High: 24 Low: 11
Sun - Sunny. High: 22 Low: 9
Mon - Sunny. High: 21 Low: 8
Tue - Sunny. High: 19 Low: 6
Full Forecast at Yahoo! Weather
(provided by
The Weather Channel
)
Do you think the police are too quick to shoot suspects?