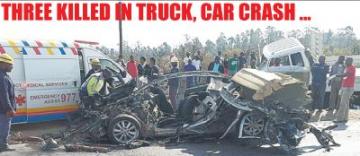 MANZINI – Three people died when a Toyota Corolla sedan they were travelling in crashed into a truck along the Manzini/Mafutseni road near Hhelehhele yesterday.The three
MBABANE – A police officer had to shoot three times in the air to save himself after soldiers attacked him along the main street in
...
MBABANE – About 27 children have died from Diarrhoea which is affecting mainly children under the age of two. On Monday the Ministry of Health released
...
MANZINI – Three people died when a Toyota Corolla sedan they were travelling in crashed into a truck along the Manzini/Mafutseni road near Hhelehhele yesterday.The three
...
Conditions for Mbabane, SZ at 6:59 am SAST
Current Conditions:
Fair, 11 C
Forecast:
Wed - Sunny. High: 26 Low: 8
Thu - Sunny. High: 26 Low: 9
Fri - Sunny. High: 28 Low: 11
Sat - Sunny. High: 25 Low: 12
Sun - Partly Cloudy. High: 20 Low: 11
Full Forecast at Yahoo! Weather
(provided by
The Weather Channel
)
Do you agree that the Swaziland Revenue Authority should tax entertainers?